Find your water or sewer connection
Whether you are digging to find a plugged sewer pipe, planting a tree, or building a fence, it is important to know where all the pipes run.
Damaging underground pipes can be costly and dangerous.
Before you begin a construction and renovation project, locate the route your home's sewer pipes and other utilities take beneath your property.
Get to know what's down below

WARNING: Digging around water and sewer lines may also impact underground gas lines, which can cause property damage and risk personal safety. Call BC One Call, listed at the right, to find out the most current locations of gas lines and other utilities.
Find your water and sewer service connections
The City's Engineering Services Department keeps records of connection information for most homes.
Contact 3-1-1 to request the sewer connection information for your property.
Generally, there are no records of piping plans on private property but if available, the City's records will provide information you can use to deduce where the services may run on private property.

NOTE: You can also have a City crew locate your water service.
Homes built after 1930
The City may have a record of where the City and private portions of the pipe meet at the property line.
The usual depth of sewer connections is approximately 1.5 m (5 ft) below the road elevation at the property line. However, depending on the property, the connection depth may be much deeper.
Find the property line or front boundary to your lot
The best way to be sure of your property line is to consult with a surveyor.
You can get a rough idea as to where your property and the City's property meet near the street. This is useful information to have when excavating near the property-line.
Above is a sample photo of an aerial view.
Find the sump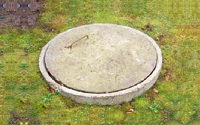 The sump collects rainwater that flows from the gutters and drain tiles, and controls the level of water by sending it to the sewer main.
Typically, sumps are concrete chambers, either cylindrical or square in shape, and can be located inside or outside of the home.
In some older homes, sumps were not installed and the flow of water percolates directly to a rock pit or the ground.